bathtubs with a view - SPOTS TO SIP AND SAVOUR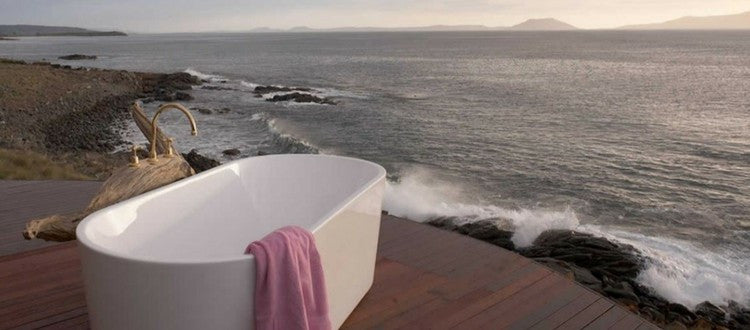 Imagine drinking some of the best tea in Australia while relaxing in the best bath tubs in Australia. Pure bliss.
Here's where you can find the best bathtubs with a view to sip, savour and recharge the batteries. There's one for each day of the week. 
The darling of luxury island accommodation in Australia. This bathtub appeals to the senses and the soul effortlessly bringing the outside in with uninterrupted views of the sparkling Whitsunday waters.
Appreciate the secluded, restorative wilderness of Freycinet, Tasmania. This bath tub is as close to the crystal-blue waters of renowned Great Oyster Bay as you can get, without actually being in them.
Settle in to the Philipe Starck bathtub with overhead chandelier as you gaze out over the rolling Blue Mountains. 
Float atop a secluded cliff looking out over the rugged coastline and wilderness of the Southern Ocean. Take sanctuary in the sophistication and refined comfort of this tub. 
Luxuriate with views of the Sydney Harbour Bridge that will keep you captivated until the bath water turns cold.
The floor-to-ceiling glass makes you feel as if you're actually outside. Watch the wildlife as you sink under the bubbles, farmed by the mountain views of the stunning Sunshine Coast Hinterland.
Overlook the sails of the Sydney Opera House and the Sydney city skyline 
Now all that's left to do is select the perfect tea for each tub. Here's some inspiration to help you decide.  
1 Response
Leave a comment
We would love to hear what you think. Leave us your thoughts on this article.