Cooking with tea – rice paper rolls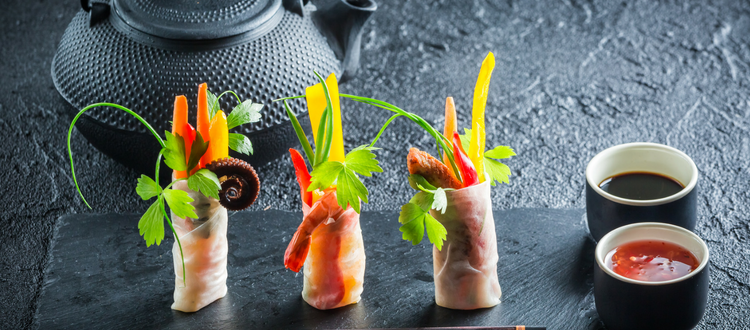 Fresh, crunchy and flavour-packed, these rice paper rolls with oolong tea dipping sauce make for a healthy and refreshing summer lunch.
What you'll need
For the rice paper rolls
100g Vermicelli noodles
3 cups of julienned vegetables like cucumber, capsicum, red cabbage and carrot
¾ cup of chopped red onion
1/2 cup fresh mint
¼ cup corriander
1 avocado
3 cups of freshly peeled tiger prawns, chicken strips or other seafood of your choice
10 rice paper wraps
For the tea dipping sauce
1/2 cup of Himalayan Bouquet Oolong tea (steeped – the stronger the better)
1 tbsp of sesame oil
1 tbsp honey
1 tbsp fish sauce
1 tbsp lime juice
1 tbsp sweet chilli sauce
Soy sauce (optional dipping sauce)
Method
Rice paper rolls
Soak the vermicelli noodles in boiling water to soften, then rinse them in cold water to stop the cooking process. Drain then chop into short lengths to make it easy to add to your rolls.
Lay each of your roll filling ingredients out along the bench.Pour boiling water into a shallow tray or dish that is wide enough to hold your rice paper wrap. Working with one piece of rice paper at a time, dip it in the water for a few moments until it is soft then place it on a clean area of your bench. Next, add some of each of your ingredients to the middle of the rice paper wrap leaving a good gap at the bottom and top of the paper. Try not to overfill your wrap or it could split.
Next you need to roll up the wrap by folding the edge closest to you over the ingredients. Then fold in both sides roll the parcel tightly. The rice paper will stick to itself sealing up the roll.
Oolong tea dipping sauce
Simply add all of the ingredients and stir together vigorously. This dipping sauce is the perfect combination of sweet, salty and sour. You can also choose to serve with soy sauce.
Interested in cooking with tea?
Here are a few more tea recipes you might like to try:
Leave a comment
We would love to hear what you think. Leave us your thoughts on this article.