Gyokuro Green Tea Martini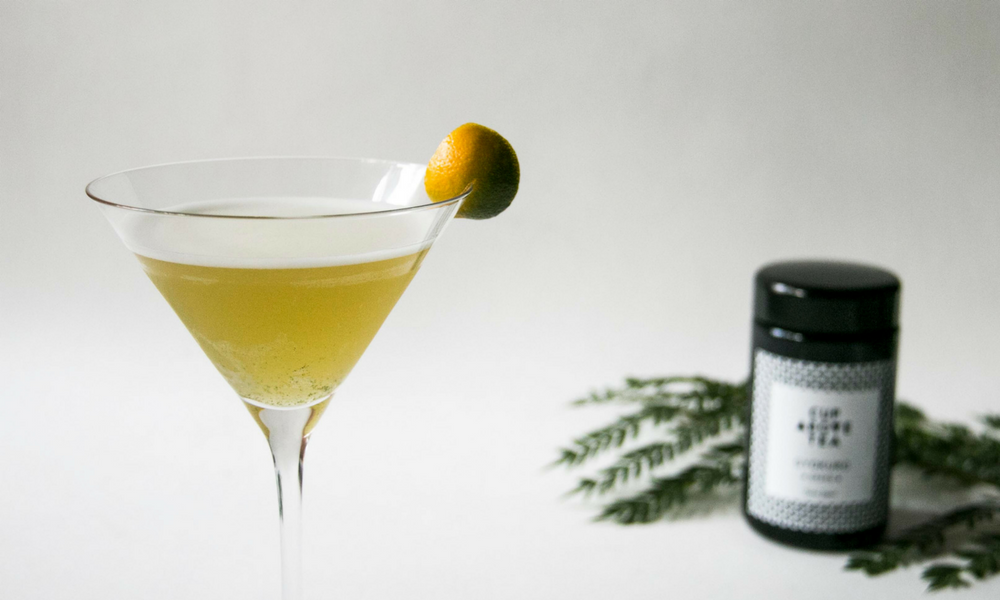 Tea mixology is a relatively new trend and pleasingly, it seems like it's here to stay with more and more mixologists and chefs realising the unique qualities tea can bring to both food and cocktails.

But what exactly is it about tea that makes it work so effortlessly when used in cocktails? We ask Teatini's Neha and Smruthi, sisters from Sydney, Australia, who are fast earning a reputation as tea-cocktail experts.
Why does tea makes for a such a great cocktail ingredient?
There are three main characteristics. Firstly, the unique flavours of tea brings a new depth of flavour to lift a drink's profile. Secondly, the botanical properties of tea make it a fresher ingredient to use than artificial and generic syrups. Finally, tea is very versatile when compared with traditional cocktail mixers in that it can be infused directly in a spirit or liqueur as well as brewed into a syrup and used as a mixer, and the different techniques applied can generate totally unique flavour profiles for cocktails.
Craftsmanship is incredibly important when it comes to quality tea, and this goes for cocktails too. There's a particular kind of anticipation as you watch a skilled mixologist create your drink by hand in front of you – where does this come from?
There is certainly something marvellous and a certain thoughtfulness that goes into making an excellent cocktail. There is a real joy in that craftsmanship - especially for the creator because it requires skill, patience, and passion. For the consumer, as with tea, it is about the sensory experience - the aroma, taste, and presentation. All these elements matter. Brewing and making tea and cocktail mixology are two very similar art forms. Seeing the craftsmanship and skill that goes into a world-class cocktail creation is an important part of the sensory journey.
Cup Above Tea is sought after by mixologists for use in premium cocktails, why do the experts enjoy working with high quality, well-crafted teas?
The key to achieving a perfect and extraordinary cocktail is ensuring freshness and balance in the ingredients used. While a cocktail can be made using a few or several ingredients, the complexity in achieving a balanced flavour profile is often the same because the drink is usually confined to, at most, a couple of hundred millilitres.

There is little room for error because every ingredient and proportion matters and will impact the harmony of the final product. The higher the quality of the tea the more fresh and balanced the cocktail. We've worked with a number of Cup Above Tea products when developing new beverages, and one we've been experimenting with recently is an exceptionally high quality, well-crafted green tea - Master Kurihara's award-winning Gyokuro. There is absolutely no concern that the tea will be underwhelming and lost in the drink, as is the case with mass produced, inferior quality or blended teas.
What about those of us who aren't expert mixologists, can we still experiment with using tea in own Friday evening cocktail creations?
Absolutely. The best thing you can do to become more familiar with tea as a cocktail ingredient is to really know the tea. Know where it is sourced from, how it is processed and the craftsmanship behind it, then learn how to properly brew it so that you familiarise your senses with what a properly brewed cup of that tea should smell and taste like in order to achieve the same balance when using the tea in a home cocktail creation. When looking to experiment with tea, try stronger and weaker concoctions including cold brew and different flavour extraction methods such as brewing as a cold brew or as a syrup versus infusing the tea leaves directly in alcohol and then play around with the length of time you adopt each technique for until you feel that you've reached the optimal strength of flavour without bitterness.
So, what did you come up with when you experimented with Master Kurihara's award-winning Gyokuro?
A wonderful Gyokuro Martini. The recipe is simple, reflecting the fine quality of the tea.
Ingredients
45mL Cup Above Tea Gyokuro green tea infused vodka
15mL Noilly Prat dry vermouth
10mL fresh mandarin juice
5mL simple syrup
Method
Infuse
Add 1 tbs of Cup Above Tea Gyokuro tea leaves with 50mL vodka. Infuse for at least 45 minutes then fine strain the liquor from the tea leaves. You will lose approx. 5mL through this direct infusion process.

Shake
Combined with the remaining ingredient, shake vigorously over ice and fine strain into a chilled martini glass.


Leave a comment
We would love to hear what you think. Leave us your thoughts on this article.