THE ONLY TIME TEA BAGS ARE INCREDIBLE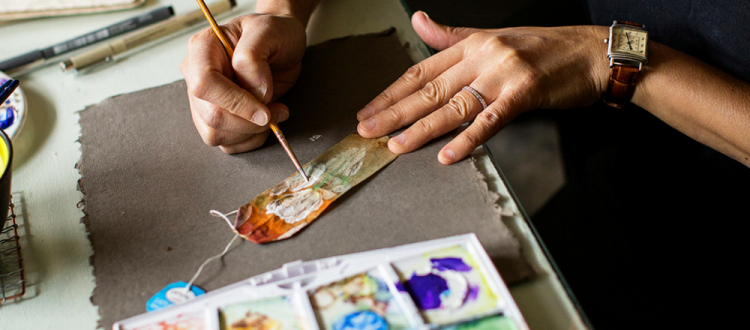 Tea bag tea is always inferior to loose leaf tea. The tea that goes into bags is called dust, and quite literally includes particles that fall to the floor and are swept up during machine processing. There is no delicate way to put it - dust grade tea is the cheap left overs. We are yet to come across tea bag tea that involves exceptional craftsmanship - that's why we don't include bags as part of the Cup Above Tea library.
But, recently we've had to eat (or should that be drink?) our words, and that's all thanks to Ruby Silvious.
Ruby is a visual artist based in New York and last January, she began a daily ritual of recycling her morning tea bag and repurposing it into tiny stunning artworks recording a special moment from her day. Each day of the year Ruby painted a new teabag and we caught up with her to hear more about her recently released coffee table book, 363 Days of Tea.
What was the inspiration behind 363 Days of Tea?
On January 1, 2015, I resolved to push my creative practice by making something every day, but I couldn't decide what or how. I knew it had to be realistic and doable, given that I had a full time job during the day and didn't get home till 6:30 every night. Two days later, I was having tea at a café in New York City when I came up with the idea - hence, the two missing days - 363, instead of 365 Days of Tea.

How did you decide what to paint each day?
There was no specific recipe or theme. I painted random subjects like tea cups, a sweater on clearance, a friend's dog, you name it. I travelled a bit in 2015 so local scenery influenced me too. I commemorated holidays and special events but then there were also days - plenty, actually - when there was little to no creative flow whatsoever. During those times, I did abstracts, collages, and used the tea bag paper in my printmaking to create monoprints.
One of the most important thing to us a luxury tea company is provenance. It matters. Lots. What's your provenance and how does it relate to your work?
I was born in Tacloban City, in the Philippines, then moved to Manila at the age of 16, when I began a four-year course in architecture and fine arts at the University of Santo Tomas. I moved to the United States (New York) in 1977 at the age of 20. I grew up in a very creative environment. My father was a self-taught artist and his mum, my grandmother, was a very talented seamstress. Photography and music have always featured on both maternal and paternal sides. My maternal great-grandmother, who was pure Japanese, taught me origami when I was just five. My fascination for paper goes a long way back!
What is about the art-making process that sparks such joy for you?
Creating art makes me feel alive. It's what calms me down during most stressful times—and having no judgments, no boundaries can be very liberating.
Since I was a little girl, I've always been drawn to beautiful things. I was an early hoarder. At age 10, I had collections of stamps, perfume bottles, pretty packaging, and anything paper-related that I could find and afford. We moved so many times so I lost most of them.
Today, I continue to explore and learn new techniques. As an artist, I must always keep my work fresh and be open to new possibilities. I want my art to spark creativity in people when they view it, and to inspire them to find new life in everyday, familiar things. We're surrounded by extraordinary beauty that so often goes unnoticed.
Exceptional craftsmanship is rare and requires the highest levels of skill. We look for it in tea all the time, but what does it look like for you when you're using a teabag as a canvas?
Watercolour is very unforgiving and was my least favourite of all the mediums. Ironically, it is primarily what I use for my tea bag paintings now. Over time, I developed some control on how to use it effectively, what colours work best, when to use gouache, what brushes to use and so on.
Teas stain differently. I learned quickly that chamomile tisanes don't stain and are difficult to empty out and open because the leaves tend to stick to the tea bag. Black tea, rooibos and oolong teas tend to produce the darkest stains. Depending on the brand of tea, some tea bags, produce better contrast because their tea bag paper is whiter than the others. Tea bag paper also comes in different shapes and construction. These are all happy accidents I learned throughout the process!
I usually grab what's available on my studio table and just play with it. If I have a vertical design that renders better on an elongated tea bag, then I use one with that orientation. Some of the more whimsical designs look fun on the round tea bags. There's a lot of trial and error. You should see the pile of failed experiments I have!
What traditions or values do you preserve through your work?
Art is so subjective so instead of boxing myself in with a theme, I prefer listening to how people interpret my work. Most times, it's more interesting than what I come up with!
What piece of life advice do you live by?
There is an old saying that when the Japanese mend broken objects, they fill the cracks with gold. They believe that when something has suffered damage and has a history it becomes more beautiful. This, along with the wabi-wabi philosophy and commitment to the everyday, the somewhat broken and the imperfect, is true to my design aesthetic and discipline.
How do you create moments of luxury for yourself?
I am so blessed to have what I have and I'm truly grateful. With 363 Days of Tea, I not only achieved my goal, I feel that I have inspired people to reimagine what art can be and find new ways for discarded items to take on a new life. That's how I created my moment of luxury.
What do you love in a tea?
I usually drink around two cups a day, though while I was in Japan recently, I had little access to other beverages so I drank as many as six cups a day! Green teas are my favourites, and Earl Grey, I think of myself as a seasonal drinker in the sense I drink more tea in the fall and winter, but I hardly need an excuse for a cup at any time of the year. My ultimate tea and food pairing is a nice cup of oolong tea matched with a ham and gruyere cheese scone.
Of the 363 tea bags, do you have a favourite?
I have so many favourites, I can't possibly pick just one…
You can purchase Ruby's book, 363 Days of Tea: A Visual Journal on Used Tea Bags via Amazon or Ruby's website where you can also view more of her gorgeous creations.
Leave a comment
We would love to hear what you think. Leave us your thoughts on this article.