The ocular equivalent of haute couture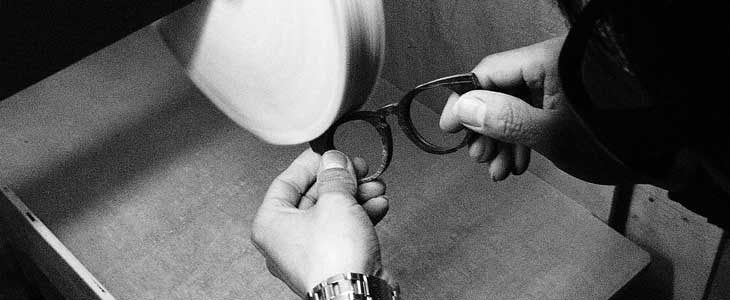 Have you ever wondered what a yak, a long haired bovid from Tibet, and a pair of spectacles have in common?
No, neither had we - until we met Benoit Ams, Belgian designer, craftsman and founder of Smith & Norbu, a bespoke eyewear brand hand crafting glasses for some of the worlds most stylish individuals.
A craftsmen's know-how is the magic by which exceptional raw materials take shape in the most exclusive products. Smith & Norbu's range of optical frames are crafted by skilled artisans using traditional techniques carefully preserved and handed on from one generation to the next.
One gets the sense that the entire universe will look more elegant once you put a pair on. The sense is indeed true and it's thanks to the three F words at the heart of bespoke eyewear - 'fit', 'function', and 'flatter'. Benoit explains below…
Why bespoke spectacles, and more importantly, why yak horn?
Everything started during a trip to Tibet, when I fell in love with a piece of craft made out of yak horn, and from there I had the idea to create high quality eyewear frames using this fantastic natural material. I wanted to create frames that were not only beautiful, stylish and comfortable to wear but also that are crafted sustainably in respect of the environment.
I am determined to "give something back" to a world from which we have taken much. We're revitalising traditional horn craftsmanship in a way that creates a sustainable source of income and improves the quality of life for the local population of Tibet.
Tibetan yak horn is pretty unique in terms of provenance, but what about your own provenance?
I'm originally from Brussels, Belgium and I have been influenced by my environment. My late father was jeweller by trade and as a photography enthusiast and photographer myself I have always been involved in art and design. When I was 18 I set up a cultural event company in Brussels and after spent time in London consulting in the fashion and lifestyle industry before returning to Belgium working with Delvaux, one of the oldest fine leather luxury goods fashion houses in the world. I developed a passion for timeless style and quality as well as a socially responsible business philosophy. From there, I founded Smith & Norbu in Hong Kong.
What's involved in crafting a pair of bespoke spectacles?
Creating a single pair of spectacles involves as many as 50 separate operations, all carried out exclusively by experienced craftspeople with meticulous attention to detail. Among a multitude of highly precise individual steps, the horn has to be cut, open, pressed, sawed and thoroughly polished. A pair of fine horn frames are a once-off piece of art and thanks to the quality and craftsmanship; they have the durability to be cherished for a lifetime.
The challenge for us is to revive traditional horn craftsmanship that dates back several thousand years and to make it relevant for today.
Each pair is hand crafted after consultations with the client. 
First, the horn is cut and pressed to manufacture horn plates. Then, plates are selected according to colour and the pattern.
Every product is then assembled with a signature rivet, inspired by the endless knot and thoroughly polished by hand.
Why is the base material of such importance?
The love and careful selection of the highest quality of raw materials are essential qualities of fine spectacles makers. This devotion is why I only work with un-laminated yak horn. I want it to be as close as possible to the natural product. Natural horn is one of the most exclusive materials available for eyeglasses. Horn is not only a highly resistant material; it is also a beautiful and vibrant natural product with characteristic colour nuances that differentiate genuine horn from any other man made materials. Natural horn makes the frame more comfortable and light to wear than other synthetic materials and it's also an anti-allergic product.
How do you source the yak horn?
We predominantly select the horns of the yak from the Tibetan plateau for their incredible resistance and lightness. Yaks are cattle-like animals about the size of small oxen. Yaks are highly valued by Himalayan peoples. The generic Tibetan name of the animals means "wealth" or "jewels" that grant all your wishes. These features make each and every single piece of product as unique as you are. Horn ages with style, acquiring a signature patina that adds depth and character.
Yaks are domesticated animals on the Tibetan plateau and are widely used in agriculture. They do not fall into the category of protected or endangered species and our horn processing complies with the most stringent ECO standards.
What should one be looking for when it comes to fine bespoke eyewear?
Our more discerning clients, connoisseurs who appreciate sartorial elegance and craftsmanship, appreciate the value of bespoke. You want an expert who will spend time with you to help you look your best. You want eyeglasses that will fit, function, and flatter your look.
Choose your eye shape based on the shape of your face, choose colour based on your skin complexion, hair and eye colour, and finally, choose a frame that is light, comfortable and agreeable to wear based on your individual lifestyle.
Choose true beauty over the ostentation of designer names, or brands and seek out the fusion of tradition and innovation resulting in stylish re-interpretations of classic icons.
Importantly, look for quality in craftsmanship. As a small company, the only chance we have to survive in the global market is by delivering consistent quality. We only craft a limited amount of frames every year. Today, the challenge for us today is to be able to continue to manage our growth without compromising on this quality.
At Cup Above, we're all about helping our clients create little moments of luxury. How do you create little moments of luxury in your own life?
I do strongly believe the greatest luxury of life is time.
What piece of life advice do you live by?
Once a year, go somewhere you have never been before- Dalai Lama
What are you curious about at the moment and why?
My biggest problem in life is just being curious about everything... and not having enough time!
What is excellence to you?
Consistency and a focus on detail.
Do you get time for the occasional tea?
I'm more of a coffee drinker but I enjoy a cup of Darjeeling occasionally and I strongly believe drinking tea is about spending time to enjoy.
Benoit's spectacle styling tips
It's all about mtching your frames to your face shape. Choosing the right spectacles can make an enormous impact on the way you look. Spectacles are no longer seen as a devise to aid your vision but mostly as a reflection of your personal image or a way to enhance your facial features. Have a look in the mirror, and study the shape, the curves and angles to find the styles that will suit you best. Generally people's faces can be a combination of different shapes, so use this information only as a guide, not as a rule.
Oval Face Shape
An oval face is well balanced and softly rounded; the forehead is slightly wider than the jaw, which curves gently, and the cheekbones are high and face length is approximately 1.5 times the width. Oval is a versatile face shape with features that can work with a variety of frames.
TRY: There is really no limit as to what kind of frames and in what shape you should look for. One thing to consider is to select frames that maintain your balance proportions. Square and rectangular frames add contrast to the curved lines of the oval face. Other shapes are fair game as well, just be sure to keep scale in mind and avoid frames that are too small or too large, throwing off the natural balance of the face.
AVOID: Styles that are uncomfortable to wear or that you feel do not suit your face.
Round Face Shape
Round faces are all about curves. Full cheeks, a wide forehead, a rounded chin, few angles, and a balanced proportional length and width are the characteristics of a circle shaped€™s face. Round faces are usually proportional in width and length.
TRY: The most recommended eyewear€™s shape for you is angular frames with lenses that are wider than they are deep. We can say that the aim of angular frames is to lengthen your face and make it appear slimmer and longer. Rectangular frames would be most suitable.
AVOID: Small and round shapes and very large frames which will make your face look rounder.
Square Face Shape
A square face has a broad, deep forehead, wide horizontal jaw line and square chin. Square faces are generally proportional in width and length
TRY: The key for squares is to find frames that allow their architectural features to shine. Look for narrow, oval, and round frames to contrast the straight lines of the square face. They will soften your jaw line, lengthen, and make your face appear to have more curved edges.
AVOID: Thin, angular, geometric and square styles that accentuate the angles of your face.
Heart Shaped Face
A heart-Shaped face has a broad forehead, tapering to a small neat chin and mouth. Cheekbones are generally high and angled following the contour of the face. This face has a very wide top third and small bottom third.
TRY: The trick for heart shapes is to find shapes that balance the varying widths of their face. To minimize the width of the top of the face, choose frames that are wider at the bottom to balance the shape of the face.
AVOID: Styles which are wider at the top; these will reflect the face shape rather than balance it.
Rectangular Shaped Face
Rectangular faces have more length than width. Typical characteristics include a long forehead, high cheekbones, and a longer nose. The right frames will add width and break up the length of the face.
TRY: Go for frames with a strong or accented brow line that give a strong horizontal element. Frames with a bit of depth in the lenses will balance the length of the face. Shapes with rounded edges and curved lines will soften the angularity of the face.
AVOID: Styles which are small, narrow lenses that will exaggerate face length.
Leave a comment
We would love to hear what you think. Leave us your thoughts on this article.