The Nepalese Himalayas - the new Champagne of teas?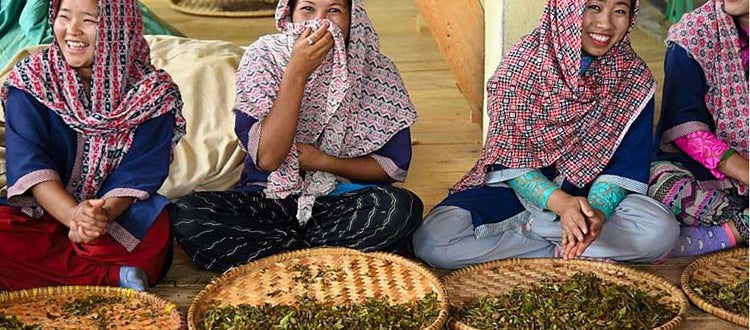 Tea connoisseurs the world over simply can't get enough of Nepalese teas.
In the last few years high mountain Nepalese tea has made a name for itself in tea circles to the extent that some of the finer teas in the Himalayas are vying with illustrious teas of Darjeeling in terms of reputation and distinction.
The Darjeeling region has long held the mantle as the Champagne of tea, but there's firm competition afoot, and from one garden in particular.
Jun Chiyabari
Jun Chiyabari is a small and exclusive organic tea estate in Nepal's eastern Himalayas. The garden sits high in the hills of Hile, a small town in the Dhankuta district, about 60 kilometres from the Darjeeling border.
By the standards of its Indian and Sri Lankan neighbours, Jun Chiyabari is both tiny and incredibly young with hugely diverse tea cultivars in its garden.
Brothers Bachan and Lochan established the garden from scratch in 2001. The brothers grew up surrounded by tea gardens. They went to school in Darjeeling and from their classroom they could smell the distinctive aromas from bordering tea factories, they could hear the songs the tea workers would sing as they plucked, and they could see the rolling green hills and valleys covered in tea plants.
They would regularly visit the factories, make visits to tea managers' homes and fondly reminisce about the daily 3pm tea break where the students would have tea and cookies. After enjoying various career paths following their school days, the brothers were drawn back into tea.
The quest for perfection
After scouring Nepal on foot for the ideal location, braving leeches, long distances, landslides and monsoons, the remote and detailed reconnaissance mission culminated in the perfect terroir. Jun Chiyabari would be born high in the pristine hills of Hile in the eastern Himalayas.
The garden is around 2000 meters above sea level, is beautifully scenic and more importantly enjoys exceptional conditions from the soil, to the water to the fresh mountain air, that are conducive to producing incredible tea.
It features some extraordinarily varied tea cultivars. Few estates can claim such diverse plantings. The brothers sourced superior plants from Darjeeling, Taiwan, Japan and China. The plants sourced from Nepal can be directly traced from the original Chinese cultivars gifted to Nepalese Prime-Minister Jung Bahadur Rana by the Chinese Emperor in the 1850s.
Nepalese tea falls into one of two categories:
CTC (cut-tear-curl) which is mechanically, mass produced tea of lower quality which will ultimately end up in flavoured blends or in tea bags
Orthodox teas – high quality full leaf tea where craftsmanship plays a more significant role. The leaves are treated entirely more gently, are often hand sorted or hand rolled, and the flavours are more complex and layered
Even with the most incredible cultivars in the world, and some of the finest terroir, you still need amazing artisans and a commitment to excellence in orthodox tea craftsmanship to complete the picture.
The vision
Jun Chiyabari is resolutely about quality over quantity. The brothers believe in sustainable farming practices with emphasis on bio-diversity and organic cultivation.
They are innovative and exploratory in what is a generally a heavily traditional industry. They are also passionate about flavour and focus on crafting experimental and unusual styles that make the most of their unique terroir.
The garden focuses wholeheartedly on boutique manufacturing and innovative craftsmanship shying away from volume-based production which is common in neighbouring tea regions and large tea estates. Many of Jun Chiyabari's teas are crafted entirely by hand and very few kilograms of some of their most superior batches are available to secure.
Single-batch and limited in quantity
Jun Chiyabari's philosophy, commitment to quality and passion for elite craftsmanship is a perfect fit with our own. The beauty of working with such a small and innovative garden is that Jun Chiyabari sends us some truly exciting teas to evaluate and sample. We carefully taste and asses the different small batches, each with their own distinct flavour nuances and characteristics, and select only the very best for our collection. As you can tell from our tea library, Jun Chiyabari's teas feature heavily. A testament to their quality.
A commitment to community
When communicating with the garden the commitment to excellence across all its spheres is obvious. Jun Chiyabari engages in social projects, supports local growers and farmers, and uniquely in the industry, has several women in supervisory roles (receiving the same pay as their male colleagues).
The majority of the team at Jun Chiyabari are women, some who are studying for business and master degrees. On the whole, Nepal is a relatively conservative and patriarchal society where it's common for women to stay at home or work in the family house, fields or farmland. The garden is also committed to supporting education opportunities including the local school, its infrastructure and its teacher training.
Talking taste
We currently offer five of Jun Chiayabri's teas in our tea library, three blacks, an oolong and a green.
Nepal enjoys a lengthy harvest season (generally from March through to September) with four distinct flushes that reflect the various stages of growth and result in different flavours and characteristics in the cup.
First flush: light, delicate, young leaves resulting in subtle but incredibly elegant flavour. If the conditions are favourable this is often the best flush of the season and commands high prices from tea connoisseurs thanks to the limited volume that can be harvested in this short time
Second flush: a stronger version of first flush flavours often with more mature and well-rounded muscatel and fruit overtones
Summer or monsoon flush: a fuller, bolder and more robust flavour these leaves are brisker and more astringent, producing a much stronger cup
Autumnal flush: a similar taste to the Second Flush, with a slightly more floral aroma and a fuller body
There are plenty of similarities on the palate between a Darjeeling and some of Jun Chiyabari's black teas, though there is a distinctly unique character that we put attribute to the vitality and vibrancy of the young plants and the exceptional care that goes into the craftsmanship.
Golden Hand Rolled Himalayan Tips
With a total availability of just 3kg this is an elite tea. On the palate you can detect hints of silky caramel, smooth honey and light hazelnut. This is a signature Jun Chiyabari autumnal tea which is harvested, sorted and crafted entirely by hand. It is incredibly difficult and time consuming to produce using exceptional leaves. It is beautiful looking tea in terms of appearance and is an absolute must-taste for discerning tea connoisseurs.
Second Flush Hand Rolled Himalayan Tips
Like the tea above, the second flush is also handpicked, hand rolled and labour intensive to craft. On the palate you'll taste brisk liquor, biscuity top notes and a hint of fresh-baked bread. It's like a pleasing little pitter-patter of feet on the palate. This batch was harvested in early May.
Himalayan Black Summer
This tea has instant visual appeal and a rich, chocolatey aroma. It's full bodied, smooth and malty with subtle hints of toffee and maple. It's bold, beautiful and best in breed. A perfect morning or breakfast tea that will even tolerate a dash of milk (though we always recommend you drink pure to fully appreciate the flavour).
Himalayan Bouquet
Jun Chiyabari crafts some interesting and unusual oolong style teas. We generally refer to these as semi-oxidised teas in recognising that traditional oolong is produced in China and Taiwan rather than Nepal. We've secured a small batch of Himalayan Bouquet which captured our attention for its delightful florals and unusual tropical hints. The leaves can be reinfused many times and the flavour evolves and changes with each steep.
Himalayan Pine
To round out the collection we curated a Nepalese green which immediately beguiled us. You smell and taste the pristine Himalayan mountain air and on the palate this tea is crisp, fresh and vegetal with a touch of Jun Chiyabari's signature sweetness. Both cleansing and invigorating, this is a special green tea that delights the palate.
We are also cellaring some of our small batches from Jun Chiyabari because we're keen to explore how the leaves will evolve over time. From time to time we'll release small parcels of our cellared batches to our connoisseurs. You can sign up to be among the first to know when these exclusive releases become available.
Many of these beautiful images are courtesy of Jun Chiyabari with thanks.
Leave a comment
We would love to hear what you think. Leave us your thoughts on this article.