The most luxurious business card in the world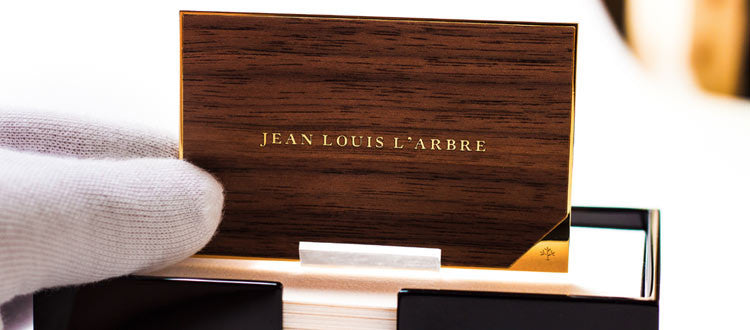 How far would you go to make a good first impression with your business card? Would you go so far as to involve a team of master craftsmen including goldsmiths, woodworkers and papermakers?
Enter Switzerland-based l'Arbre – the world's best bespoke business card artisans.
A plated or massive gold core forms the heart of the l'Arbre business card. It is then wrapped in a fine rare wood, and engraved to reveal the owner's contact details. Each card is placed into an individual 'Couvert de Contact' paper case and housed in wooden case complete with certificate of quality. These stunning business cards certainly make a statement.
Switzerland is a country that stands for stable value, precision craftsmanship, and the highest level of quality. Thomas Lipko, Co-Founder and Chairman of l'Arbre, was a young boy when he knew he wanted to create something that would be the 'best in the world'. It wasn't until an inspiring discussion many years later, about the celebration and respect involved in exchanging business cards in Asia with a friend who had returned to Switzerland from China, that Thomas defined his idea and l'Arbre was born.
Tell us a little more about the most exclusive business cards in the world…
We work with some of the very best craftsmen in Switzerland. The type of expertise required to craft these business cards is a really rare and unique blend of skills. It took us three years to find the right experts. Most of the work is done by hand and consists of working with natural materials that require special treatment. As a result every single card is unique and one of a kind.
The world of luxury is where dreams are created and fulfilled simultaneously. This is something that has always fascinated me about that and it's something I wanted to be a part of.
Provenance matters. What's yours and how does it relate to your work?
I have lived in Switzerland all my life. I grew up in a ski resort in the Swiss Alps, a village named Wildhaus. The region around Wildhaus is beautiful, scenic and well known for its traditional crafts. It has a strong rural and sustainable culture. Wood craftsmen with a mindset of deep seeded historic undertone influence the area and I have many close friends that live this traditional lifestyle and it inspires me every time we meet. I also grew up in a family of dentists, so I got a good eye for detail and precision early in my life.
Blending these life experiences has helped me formulate l'Arbre. I've recently moved to the lower valley, which is closer to the bigger cities. I'm not really a city person, however, I need to stay connected to businesses in the city. I compromised; moving to the lower valley keeps me connected to the traditional essence of craftsmanship and, at the same time, within reach of the bigger cities.
Talk us through the creation of l'Arbre business card
It's all about passion. Our craftsmen live the passion of their guild and put in a great deal of commitment in the products. The woodworker, the goldsmith and the papermaker all work together in harmony to produce a result which is truly precise, high quality and luxurious.
There are two types of card. The first is the L'Élu. This can be commissioned in four different types of wood. Each wood has its own characteristic grain pattern.
There is the typical reddish wood of Swiss plum trees, the dark brown wood of the walnut tree, the delicate rose-hued wood of the checker tree, and the light shimmering wood of the birdseed maple.
A yellow, rose or a white gold plated core allows the letters to sparkle and shine perfectly. The contact detail is engraved and the end result is a work of art.
The second card is Les Royales. It combines rare ebony wood with a stunning 18 carat gold. Ebony is one of the most valuable woods on earth and is characterised by its dark brown, almost black, colouring, and its pure, silky sheen.
Upon request, this card can be adorned with gems or other personal engravings on the backside of the corner. We use an open-pore finish formulated on the basis of a special natural oil, and the card is available in a silky sheen or matt finish. At first you won't believe it's a business card. In fact it's a little piece of art. You will be impressed and feel valued if you receive one.
What traditions or values do you preserve through your work?
Connectedness, conscientiousness and accuracy. All of them skills, which are deep seeded in the Swiss culture blended with a sustainable sense of value.
What piece of life advice do you live by?
Do it with passion or not at all!
What are you curious about at the moment?
It's great to see my two years old son growing and I'm really curious about his development every single day. I hope that he can evolve in a world where he has a true appreciation of the finer things in life but yet stay connected with nature and the sustainable values that I have learnt to appreciate.
How do you create moments of luxury for yourself?
I create luxury moments with my friends and family. Sharing these moments is when I feel most rewarded.
How much tea do you drink?
During the week usually one cup each day of an evening, and on the weekend at least three or more. I usually drink organic black tea with some milk. I like to pair it with "Gipfeli" which is a Swiss croissant that you simply can't compare with others. A great combination you should try!
What takes your fancy in the Cup Above Tea library?
The Indonesian Dark Roast Sumatra. Great with a dash of milk and with a Swiss croissant!
Any tea pet hates?
Cold tea. The hotter the better!
[gdlr_divider type="solid" size="50%" ]
Leave a comment
We would love to hear what you think. Leave us your thoughts on this article.