TEA PAIRING CHALLENGE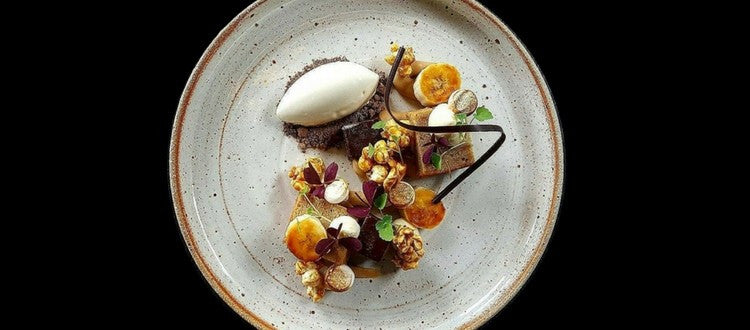 Chef: David Vidal, Sous Chef – Laholemn Hotel, Sweden
David's first kitchen experience was when he turned 13 and joined his father and uncle working in their pastry shop in Malta. Inspired by the incredible pasty creations, David began his professional cooking career under renowned Charles Demanuele specialising in traditional Sicilian and Mediterranean cuisine.
A move to Sweden at age 24 saw David begin fuse his Mediterranean style with contemporary Nordic cuisine. He now works at Laholmen Hotel in Strömstad, a picturesque fishing village on Sweden's' west coast overlooking the Koster fjord and bordering Norway.
David is known for his colourful, contemporary dessert dishes that are plated so perfectly and with such attention to detail that they look too good to eat.   
Our tea pairing challenge: Banana, Dulce de Leche and Popcorn Ice Cream
This is an all-round sweet dish with lovely textures from the biscuit soil and crispy caramelised popcorn. To balance the sweetness and refresh the palate we want a tea with savoury notes. A genmaicha green tea from Japan is the ideal pairing here. The mineral, salty flavours of Master Kinezuka's tea really compliment the caramel. The roasted rice in this tea brings a subtle nuttiness to the palate which is a perfect complement for this combination of flavour.
What is the tea paring challenge?
Tea and food pairing is just like match-making. It's about creating amazing relationships between flavour, texture, aroma and intensity. In the same way that wine can make or break a meal, tea can really add a new dimension to gastronomy.
Tea Master, Alison Dillon collaborates with restaurateurs, chefs and sommeliers with a passion for provenance to introduce tea experiences and approaches that have the same exacting standard and rigour associated with fine wine programs.
Sometimes opposites attract and bring out the very best in each other by counteracting and creating balance. Other times it's the more harmonious elements that come together, like attracts like. Of course, there are also combinations that were just never meant to be and should be avoided at all costs – it will only end in heartbreak.
To inspire you to fine your own perfect matches we share some of our favourite combinations and recommendations. Don't forget to let us know about your favourite pairings, we would love to hear about them.
Leave a comment
We would love to hear what you think. Leave us your thoughts on this article.