TEA PAIRING CHALLENGE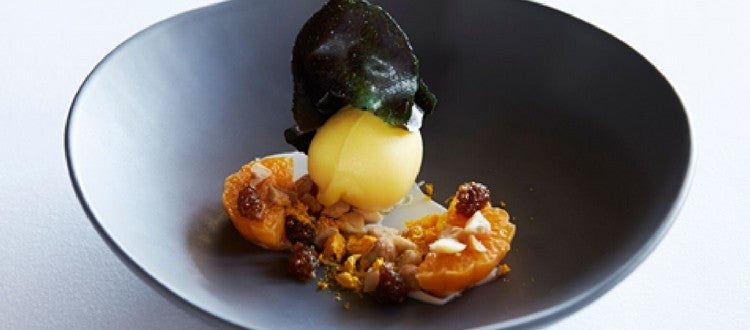 ARIA Sydney is an award winning, two hatted restaurant in Circular Quay, perched on the edge of Sydney Harbour with postcard perfect views. On August 21 it will temporarily close for an exciting face-lift and it set to re-open in November. In anticipation of the refresh, we developed a tea pairing matched to one of ARIA's incredible dessert dishes - mandarins with macadamia nut, white mulberries and yogurt.  
Executive Chef: Matt Moran
Head Chef: Ben Turner - Ben was born and raised in the UK, his passion for cooking starting whilst he was still at school. He worked in Michelin starred restaurants throughout London before moving to Sydney in 2004 to start working with Matt Moran at ARIA.
Pastry Chef: Andrew Honeysett - Andrew hails from the Blue Mountains, and has worked in some of Sydney's top restaurants.
Our tea pairing challenge: Mandarins with macadamia nut, white mulberries and yogurt
The dish
This is a beautifully balanced dish. The mandarins really capture our attention in terms of flavour and aroma so this is the hero component of this dessert we have focused the tea match around. As a member of the citrus family, it's not surprising that mandarin works beautifully with black tea.
The tea pairing
Many black tea drinkers enjoy their tea with a slice of lemon or orange, and indeed, blended or flavoured Earl Grey tea is driven by the addition of bergamot – another citrus fruit. We need a black tea that won't mask the macadamia and yet will refresh the palate from the tartness of the mulberry in the dish. We have the perfect candidate – and it just happens to be Cup Above Tea's signature tea, Golden Hand Rolled Himalayan Tips. This tea is characterised by its nutty notes, its smooth yet slightly astringent mouthfeel, and brisk hints of chocolate and caramel. Chocolate and mandarin are beautiful bedfellows and the smoothness of this tea counteracts the tartness of the berry on the palate.
What is the tea paring challenge?
Tea and food pairing is just like match-making. It's about creating amazing relationships between flavour, texture, aroma and intensity. In the same way that wine can make or break a meal, tea can really add a new dimension to gastronomy.
Tea Master, Alison Dillon collaborates with restaurateurs, chefs and sommeliers with a passion for provenance to introduce tea experiences and approaches that have the same exacting standard and rigour associated with fine wine programs.
Sometimes opposites attract and bring out the very best in each other by counteracting and creating balance. Other times it's the more harmonious elements that come together, like attracts like. Of course, there are also combinations that were just never meant to be and should be avoided at all costs – it will only end in heartbreak.
To inspire you to fine your own perfect matches we share some of our favourite combinations and recommendations. Don't forget to let us know about your favourite pairings, we would love to hear about them.
Leave a comment
We would love to hear what you think. Leave us your thoughts on this article.