Tea pairing challenge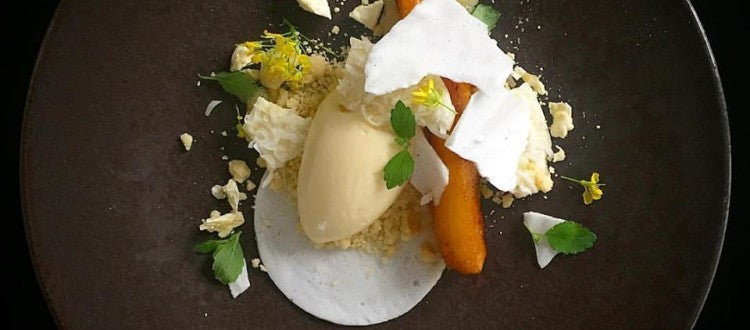 Chef: Phil Clark - Phil's Kitchen, New Zealand
Phil's love for food has taken him across the globe where he worked in Michelin star restaurants and trained under chefs Anthony Demetre, (one of London's most influential restaurateurs) and Tom Aikens, the youngest chef to gain two Michelin stars aged just 26.
In 2014, Phil returned to his home town of Auckland and opened Phil's Kitchen in 2015 to much sustained acclaim particularly his scrupulous attention to texture and flavour, and the artistic plating that turns each dish into a mini colourful artwork.
Our pairing challenge: Slow roasted pineapple, white chocolate and coconut
Tea pairing challenge: This dish is fresh, fruity and tropical and works beautifully with a high mountain, fruit-driven oolong – something at a terroir over 1000 meters. It needs a lightly oxidised oolong so as to compliment rather than contrast the balanced flavours of the desert, a deeply oxidised oolong would overpower. The pick for this dish is Master Chou's Lishan Spring. Lishan Mountain is renowned for its fruity oolongs and this spring harvest tea has lots of fragrance and delicate layers. The huge climate fluctuations in Master Chou's garden from day to night means this tea grows slowly, but develops unrivaled aroma and sweetness.
What is the tea paring challenge?
Tea and food pairing is just like match-making. It's about creating amazing relationships between flavour, texture, aroma and intensity. In the same way that wine can make or break a meal, tea can really add a new dimension to gastronomy.
Tea Master, Alison Dillon collaborates with restaurateurs, chefs and sommeliers with a passion for provenance to introduce tea experiences and approaches that have the same exacting standard and rigour associated with fine wine programs.
Sometimes opposites attract and bring out the very best in each other by counteracting and creating balance. Other times it's the more harmonious elements that come together, like attracts like. Of course, there are also combinations that were just never meant to be and should be avoided at all costs – it will only end in heartbreak.
To inspire you to fine your own perfect matches we share some of our favourite combinations and recommendations. Don't forget to let us know about your favourite pairings, we would love to hear about them.
Leave a comment
We would love to hear what you think. Leave us your thoughts on this article.