TEA PAIRING CHALLENGE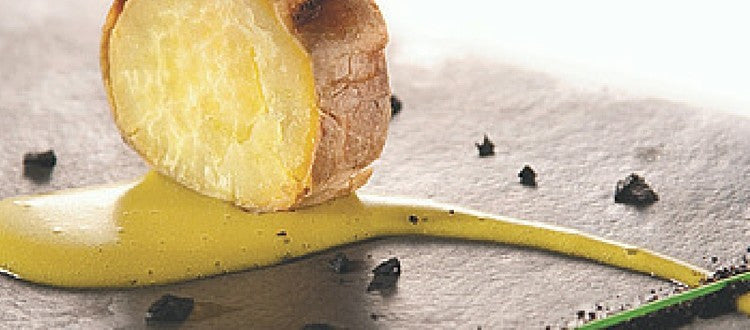 Chef: Alex Atala, D.O.M.
Alex Atala's D.O.M. is one of two Michelin stared restaurants in Brazil. Chef Atala is famed for combining fine dining with wild and wonderful ingredients from the Amazon basin. Sao Paulo's D.O.M is ranked as the 9th best restaurant in the world according to the World's 50 Best Restuarants list 2016.
 Alex Atala is passionate about Brazil, nature, gastronomy, and life. His aim is to explore the gastronomic possibilities of Brazil's domestic ingredients, and combine these with classical basics and current techniques. Atala values the small producer and exceptional provenance, and with Rio 2016 Olympics around the corner, we're extra excited to experiment with this South American tea challenge.
Our pairing challenge: Sweet potatoes with chimarrão béarnaise. One of Chef Atala's signature dishes evolves around Yerba Maté or as the Brazilians say, chimarrão. Often referred to as tea (though technically not because it doesn't come from the leaves of the camellia sinensis). This 'tea' is native to South America and Brazilian's often describe it as having the strength of coffee, the health benefits of tea, and the euphoria of chocolate, all in one beverage.
Tea pairing challenge
This dish features white sweet potato, Chimarrão reduction and a Yerba Mate béarnaise. Mate is definitely an acquired taste and the flavour is unique. It has a bitterness reminiscent of over-steeped green tea, as well as a slight smokiness and a weak coffee-ish taste. The béarnaise is rich so the tea needs to be able to stand up to the creaminess and it also needs to help cut through the starch of the sweet potato. That means we're looking for a tea with a good level of astringency and strength. Master Zhou's Jin Jun Mei is ideal. When infused for upwards of 3 minutes, this tea exhibits beautiful rich, smooth flavours with notes of dark chocolate and, ideally, sweet potatoes. This tea complements the dish perfectly both in terms of flavour and texture, which is silky but medium-bodied, and leaves a subtle lingering finish on the palate.  
Dish: Chef Alex Atala's Sweet potatoes with chimarrão béarnaise
What is the tea paring challenge?
Tea and food pairing is just like match-making. It's about creating amazing relationships between flavour, texture, aroma and intensity. In the same way that wine can make or break a meal, tea can really add a new dimension to gastronomy.
Tea Master, Alison Dillon collaborates with restaurateurs, chefs and sommeliers with a passion for provenance to introduce tea experiences and approaches that have the same exacting standard and rigour associated with fine wine programs.
Sometimes opposites attract and bring out the very best in each other by counteracting and creating balance. Other times it's the more harmonious elements that come together, like attracts like. Of course, there are also combinations that were just never meant to be and should be avoided at all costs – it will only end in heartbreak.
To inspire you to fine your own perfect matches we share some of our favourite combinations and recommendations. Don't forget to let us know about your favourite pairings, we would love to hear about them.
Leave a comment
We would love to hear what you think. Leave us your thoughts on this article.