TEA PAIRING CHALLENGE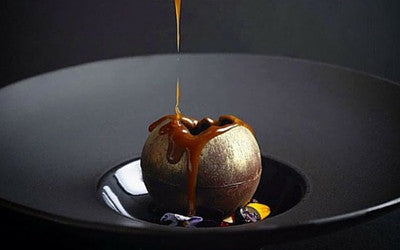 Dessert: the talented team at Nama, Bergen
Tea pairing challenge: this decadent chocolate bomb topped with caramel sauce works gorgeously with a high grown second flush black tea - Second Flush Hand Rolled Himalayan Tips from Nepal, to be exact. The brisk, biscuity top notes of this hand-crafted tea stand up to the rich chocolate and help bring the caramel flavours to the fore on the palate. Dessert - @nama_bergen expertly captured by 📷 @i_am_not_wordy
Second Flush Hand Rolled Himalayan Tips is a black tea that is hand plucked and hand rolled. Second flush teas are generally stronger in flavour and many experts agree that some of the very best tea is made from second flush leaves. We certainly think so. These leaves are wonderfully mature and have excellent consistency. This tea caught our attention because it's tricky to pin down and is excellent representation of seasonality. It's a bit like buying fresh fruit or vegetables. A juicy mango in season is magnificent. A plump peach at its peak is perfect. There's a point at which produce really comes into its own and tastes amazing. That's what's going on with this second flush tea.
What is the tea paring challenge?
Tea and food pairing is just like match-making. It's about creating amazing relationships between flavour, texture, aroma and intensity. In the same way that wine can make or break a meal, tea can really add a new dimension to gastronomy.
Tea Master, Alison Dillon collaborates with restaurateurs, chefs and sommeliers with a passion for provenance to introduce tea experiences and approaches that have the same exacting standard and rigour associated with fine wine programs.
Sometimes opposites attract and bring out the very best in each other by counteracting and creating balance. Other times it's the more harmonious elements that come together, like attracts like. Of course, there are also combinations that were just never meant to be and should be avoided at all costs – it will only end in heartbreak.
To inspire you to fine your own perfect matches we share some of our favourite combinations and recommendations. Don't forget to let us know about your favourite pairings, we would love to hear about them.
Leave a comment
We would love to hear what you think. Leave us your thoughts on this article.