Tea pairing challenge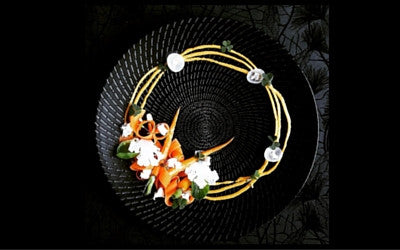 Tea and food pairing is just like match-making. It's about creating amazing relationships between flavour, texture, aroma and intensity. In the same way that wine can make or break a meal, tea can really add a new dimension to gastronomy.
Tea Master, Alison Dillon collaborates with restaurateurs, chefs and sommeliers with a passion for provenance to introduce tea experiences and approaches that have the same exacting standard and rigour associated with fine wine programs.
Sometimes opposites attract and bring out the very best in each other by counteracting and creating balance. Other times it's the more harmonious elements that come together, like attracts like. Of course, there are also combinations that were just never meant to be and should be avoided at all costs - it will only end in heartbreak.
To inspire you to fine your own perfect matches we share some of our favourite combinations and recommendations. Don't forget to let us know about your favourite pairings, we would love to hear about them.
Perfect Pair
This amazing carrot, pumpkin puree, cauliflower, brussels sprout, pickled daikon radish, wood sorrel and goat cheese dish is a lovely match with a Japanese Gyokuro. Master Kurihara's Spring 2014 is the pick from our collection. The buttery texture and umami flavours of the green tea cut through the richness of the goats cheese and enhance the vegetables in the dish. 
📷@lvin1stbite
Leave a comment
We would love to hear what you think. Leave us your thoughts on this article.