Tea Cocktail – Oolong Negroni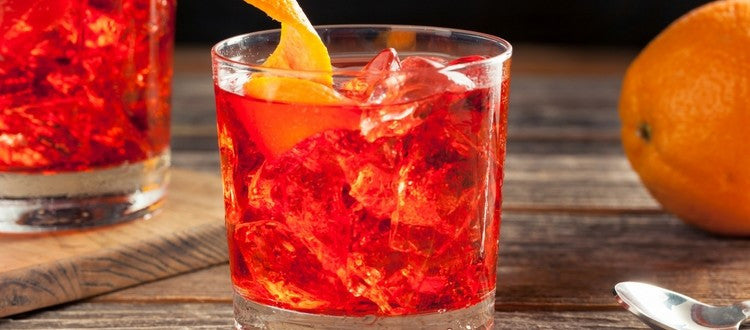 The Negorni is a true cocktail classic. It's the perfect aperitif and an undoubted favourite of mixologists and bar tenders around the world. It's extremely well-balanced and both stimulates the appetite and prepares the palate for a meal. We've given it a fresh twist transforming it into a tea cocktail with a touch more sweetness than usual.
Negroni's aren't for the feint hearted and can be an acquired taste – most palates aren't used to the zingy, puckery effect the bitterness of this drink can have, but like all acquired tastes, once you start to get acquainted with this classic, there's no looking back.
The oft touted legend has it that the Negroni got its name from the Italian man who first ordered it - Count Camillo Negroni. He usually drank an Americano (Campari, sweet vermouth and soda) but decided he wanted to up the ante and add more of a kick, so the bartender scrapped the soda and added gin instead.
Tea Cocktail – Oolong Negroni 
This Oolong Negroni doesn't take anything away from the classic but instead, thanks to a few spoons of exceptional quality oolong tea leaves, adds a touch of extra sweetness making that famed bitterness a little bit more approachable for those of us less well initiated with the Negroni.
What you'll need (serves four)
100 mls Campari
100 mls gin
100 mls vermouth
Ice
1 orange
How to make it
Measure the alcohol into a large mixing glass or jug and stir together.
Add the oolong tea leaves to the alcohol mix and agitate gently with a spoon for a minute. Let the leaves infuse for five minutes to release their flavour. If you would like a strongly pronounced tea flavour and you're very organised, you can make the alcohol mix up in advance, add the tea leaves and leave to infuse in the fridge for up to four hours.
Strain the alcohol mix into four short glasses filled with ice. Discard the tea leaves.
Garnish with your choice of orange wedge or a twist of orange peel (or both!)
Notes
When selecting your spirit brands, remember that the higher the alcohol content, the easier it is to extract flavour from tea leaves.
Play around with your ratios according to your palate – some people prefer less Campari and more of the mellowing vermouth, others like a good squeeze of orange in their too
Try serving in a slightly larger glass and add a splash of soda water or a sweet prosecco
Leave a comment
We would love to hear what you think. Leave us your thoughts on this article.