Tea, berry and coconut granola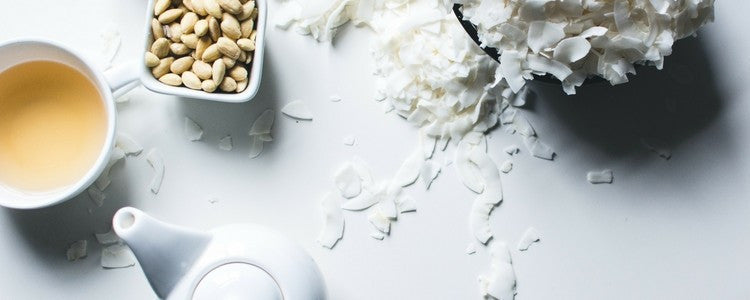 Cooking with tea - 
TEA, BERRY AND COCONUT GRANOLA
Explore the many possibilities of cooking with tea, today we look at how to take tea for breakfast, other than in your cup.
What you'll need
1 x tablespoon Cup Above Tea Himalayan Black Summer tea
120 x mls of water (to infuse tea)
2 ½ x cups of rolled oats
1/3 x cup of chopped hazelnuts
 1/3 x cup chopped macadamias
¼ x cup coconut flakes
¼ x cup chopped pecans
¼ x cup finely chopped cashews
½ x cup flaked almonds
1 x teaspoon cinnamon (ground)
1 x teaspoon cardamom (ground)
1 x teaspoon vanilla bean paste
1/4x cup lemon juice
¼ x cup coconut sugar (or other raw sugar of your preference)
½ x cup honey or maple syrup
¼ x cup coconut oil
2 x cups strawberries, raspberries or mixed berries
2 x cup vanilla bean or coconut yogurt
20 x grams dark chocolate – to grate over the baked granola if you want something extra decadent   
Method
Heat oven to 180 °C
Infuse tea in water for 10 minutes – you need a nice bold brew for the tea flavour to shine
Mix dry ingredients together in a bowl
Mix lemon, honey and oil together before combining with dry ingredients, folding in until wet ingredients are evenly distributed
Add tea infusion and mix well
Evenly spread the mixture on a lined baking tray
Bake for 30 - 40 minutes or until a nice golden brown colour. Check and toss the granola every 10 minutes.
Leave granola to cool
Chop berries and layer in parfait glasses with yogurt and granola to taste – finely grate dark chocolate flakes to taste if you want something a little more indulgence!
Pair with a pot of Himalayan Black Summer tea.
Share your tea chef adventures with us by tagging #cupabovetea. We would love to see your creations.
Leave a comment
We would love to hear what you think. Leave us your thoughts on this article.