Tea and cheese pairing - baked brie with figs, walnuts, and chilli honey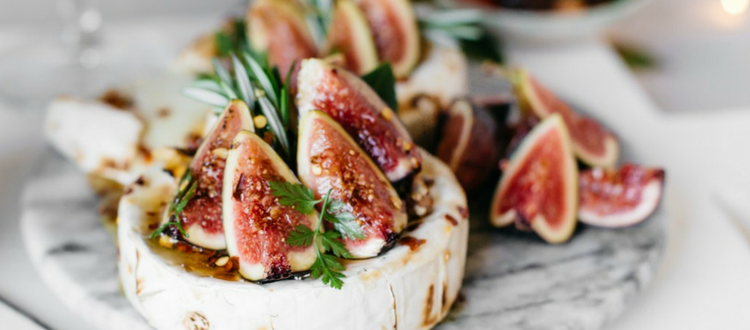 Ooey gooey goodness. This dish is spicy, sweet, salty, creamy and crunchy. It is hands down the epitome of indulgent. It's also screaming out to be paired with a tea.   
Gabriel Cabrera's baked brie with figs, walnuts, and chilli honey
Gabriel was born in Mexico but left the sunny heat and beaches and for maple syrup and mountains in Vancouver Canada where he's now based. Gabriel is seriously talented creative and culinary whiz passionate about food, art and design. He combines all three via his blog The Artful Desperado.  
Tea and cheese pairing
Wine and cheese paring has been a trend for many years. Tea and cheese pairing is becoming increasingly popular and it's not surprising given that tea and wine share a number of similarities. Both are tannic beverages with some astringency. Both cover lots of different flavour varietals and styles and both enjoy different structures, mouth feels, textures and aromas.   
A hot tea can have a mind-blowing effect on cheese. Generally we pair cool drinks with cheeses, so simply adding a heated element is something new for the palate, and the heat actually contributes to flavour chemistry resulting in different characters and often what's referred to as the elusive 'third taste'. Basically, when certain flavours combine, they create a unique and unrelated taste compared to the original ingredients.  
Our tea and food pairing challenge: baked brie with figs, walnuts, and chilli honey
Brie is a beautifully creamy white mould cheese. Brie cheese is distinguishable by its extreme white exterior and equally white or pale yellow interior. Brie can range from extremely creamy with slight savoury saltiness through to strongly savoury with hints of truffle. In this case, we have a few other flavours and textures at play too from the sweet honey and fig, and the nutty crunch of the walnut and the sharp fire of the chilli. All need to be considered when pairing a tea.
Generally, a white tea or black tea would pair well with a cream white cheese. Given the variety and intensity of flavour in this dish, a white tea will be too subtle. The dish will overpower it and the nuances and layers of the floral white tea will be lost. A black tea with a good level of astringency is a better option here. We can afford to pair something highly astringent for two reasons. Firstly we want something that will be strong, structured and bold bodied enough to work with the variety of flavours, and secondly, we can count on the creaminess of the cheese to counteract some of the bitter tannins.
A high grown black tea with layers of flavour is an excellent choice. We want something that will compliment rather than overshadow the honey sweetness and nuttiness of this dish which instantly sends us into second flush black tea territory. Given we want something with good layers, we quickly zero into the high mountain Himalayan region.
Darjeeling teas are commonly matched to creamy cheeses but for this dish we need to find something with greater depth that lends a bit more adventurousness to the tried and tested Darjeeling/Brie pairing.  So, instead of an Indian black tea we head to Nepal for a Second Flush Hand Rolled Himalayan Tips black tea. 
This tea is so versatile. It's stunning alone but works beautifully with food. It is handpicked and hand rolled with exquisite craftsmanship evidenced by the layers of flavour. This tea is labour intensive and tricky to produce but has a delightfully brisk and refreshing liquor and nutty top notes.
When paired with this dish it unlocks the 'third flavour' of a hint of fresh-baked bread.
Try your hand at this gorgeous pairing at home
Recipe – baked brie with figs, walnuts, and chilli honey
Tea – Cup Above Tea's Nepalaese Second Flush Hand Rolled Himalayan Tips
What is the tea paring challenge?
Tea and food pairing is just like match-making. It's about creating amazing relationships between flavour, texture, aroma and intensity. In the same way that wine can make or break a meal, tea can really add a new dimension to gastronomy.
Tea Master, Alison Dillon collaborates with restaurateurs, chefs and sommeliers with a passion for provenance to introduce tea experiences and approaches that have the same exacting standard and rigour associated with fine wine programs.
Sometimes opposites attract and bring out the very best in each other by counteracting and creating balance. Other times it's the more harmonious elements that come together, like attracts like. Of course, there are also combinations that were just never meant to be and should be avoided at all costs – it will only end in heartbreak.
To inspire you to fine your own perfect matches we share some of our favourite combinations and recommendations. Don't forget to let us know about your favourite pairings, we would love to hear about them.
Leave a comment
We would love to hear what you think. Leave us your thoughts on this article.