Spots to sip and savour - tea under the covers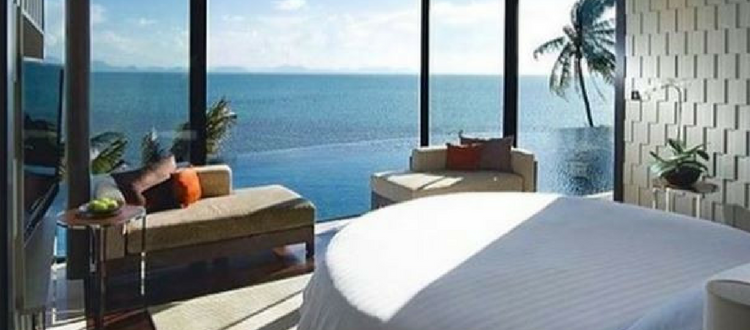 This week in our #sipandsavour series we're featuring some of the best bedrooms around the world to retreat to with a cup of tea. Slip under the covers, snuggle in, enjoy the view and sip away.
Monday's bedroom
Take your tea with water views at this award winning boutique resort set on a private island in the Arabian Gulf - a 12-minute boat ride from Saadiyat Island in Abu Dhabi.
Tuesday's bedroom
This space was decorated for a contest hosted by Airbnb, the interior accommodations created by Melissa Hegge using only Norwegian designed objects. The apartment occupied the uppermost point in the famous Holmenkollbakken ski jumping hill in Oslo as part of the limited-time contest.
Wednesday's bedroom
Sip your tea on a private peninsula on the north coast of Turkey's most glamorous holiday destination. Set in an area of pine-clad hills dotted with sugar-cube homes and exotic landscaped gardens, you can enjoy your tea in bed surrounded by radiant blue Aegean waters.
Thursday's bedroom
Spacious, luxurious and utterly unique, Finland's Eagles View Suite is built around a growing tree. The stunning glass roof and walls afford million dollar views as you enjoy your tea under summer's midnight sun or watching winter's Northern Lights.
Friday's bedroom
Point King Residence Mornington Peninsula
This breath taking house was designed to maximise both entertaining and privacy, and minimise its visual impact on the environment. Floor-to-ceiling windows allow sweeping views of Port Phillip Bay so you can watch the boats sail past as you sip.
Saturday's bedroom
Roche Bobois is a world leader in furniture design and distribution. Working closely with renowned designers such as Ora Ito, Cédric Ragot, Sacha Lakic, Christophe Delcourt and Stephen Burks, and with Haute Couture fashion houses such as Jean Paul Gaultier, Sonia Rykiel Maison and Missoni Home, you can be sure you'll be lying in bed drinking tea in style.
Sunday's bedroom
This bedroom with sweeping panoramic views is on the Venetian Island of Miami Beach. Its the perfect place to enjoy a cup of tea watching the sunrise or sunset - or both! It was designed by Architect Ralph Choeff with interior design thanks to Charlotte Dunagan Design Group.
More from the #sipandsavourcollection
Leave a comment
We would love to hear what you think. Leave us your thoughts on this article.