LATEST REVIEWS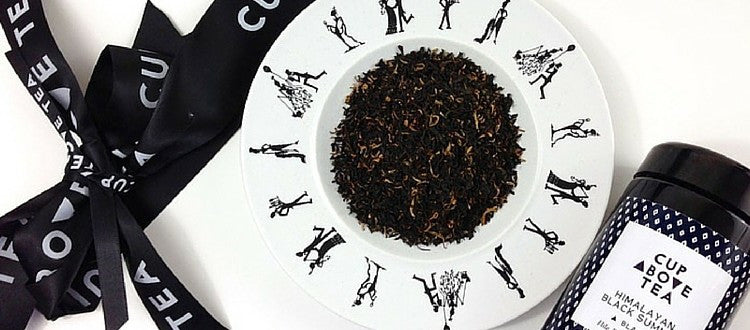 Here's what the tea connoisseurs and industry experts have been saying about Cup Above Tea lately... 
Everything about this experience has been spectacular. I remember the day that the box arrived. I was having a challenging work day, and Alison managed to make every single step of my opening the package magical. The experience screamed quality - from the monochromatic and patterened graphics on everything to the tea itself. The first tea I tried was the Himalayan Black Summer black tea from Nepal. I love the container that the tea came in...The container is a step above others that I have seen.When I opened the jar, the scent of the dry leaf made me stick my nose in the jar for a long, long time. The scent was deeply coffee/chocolate/toffee/tea. Bold and inviting. Golden tips were everywhere, and fuzzy trichomes adorned the leaves...This isn't your everyday tea. Read the review in full.
Often people don't understand this type of tea as it's neither black nor green but somewhere in between. In this case, these leaves from Taiwan show all that's possible when it comes to Oolong. Aromatically full and vibrant with what I term to be a chalky mineral character an blue fruit notes. Luscious floral notes waft up as well. It holds a bit salinity in the mouth making it both mouthwatering and full at the same time,would be lovely with an oily salmon on toast as well as aged Pecorino or even light blue cheeses. Read the review in full.
What I love most about Cup Above Tea is that you're able to see each of the growers for a specific type of tea. Love the Gyokuro? Master Kurihara grew it. Can't get enough of the Jin Jun Mei? We have Master Zhu to thank. There's something very genuine about connecting a face to a cup of tea, and this is what sets Cup Above Tea apart... There's a reverence and appreciation for authenticity and good practice, which is a hallmark of the brand... Jin Jun Mei is produced in 2 grades, gold and sliver, but true to its name, the one featured by Cup Above Tea is the gold grade. Each cup of this steep is a treasure, so I'm careful to brew it the maximum number of times that I can – 4 steepings – as it makes a rare and spectacular cup. Read the review in full.
A delightful package arrived at my door yesterday – one very delicately and intricately wrapped with care. As I opened it, I knew it had to contain something pretty special. And it did! On taking my first sip, I can instantly tell this is a tea of very high quality. Caramel, nutty flavours come through, with a clean, crisp aftertaste. There's a definite texture to this tea also – it has great mouthfeel, quite substantial but not overbearing.It is a truly superior blend and one I regard as being up there with the absolute best teas of all time. Read the review in full.
Lovers of a fine brew will soon be able to sip on a tea named after Lake Macquarie, with the new blend being launched on Sunday. Lake Macquarie City Art Gallery commissioned Alison Dillon, of Cup Above Tea, to design the high grade fruity blend named "Lake Mac Tea".  It draws its black tea base from Yunnan, China, and contains hints of stone fruit, citrus and blue cornflowers. Gallery Director, Debbie Abraham said the goal was to commission a tea that would reflect the unique location and history of the gallery's site, with its peach, orange and apricot notes, the tea evokes memories of the orchard that used to sit within the Gallery grounds. Read the story in full.
This is one of the more potent oolongs I've come across in some time. Just inhaling the leaves, it almost makes you think of beef jerky–the good one, not the one promoted with ads from a former wrestler. Aromatic smokiness comes forth and depending upon how you steep it, light, fine cigar box notes. Large and full across the palate, it holds great strength as well as great balance. Read the review in full.
 
Leave a comment
We would love to hear what you think. Leave us your thoughts on this article.