How to pair tea and beef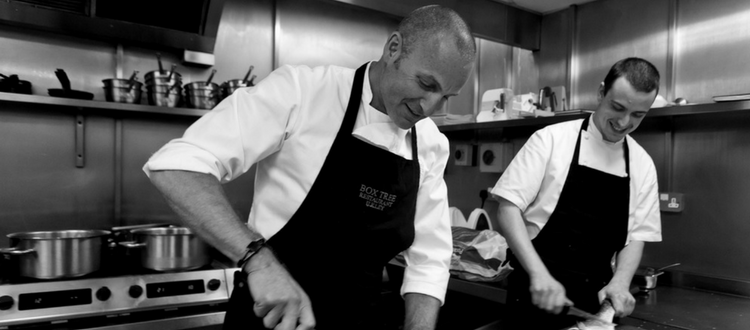 This weeks' tea pairing challenge is renowned British Chef Simon Gueller's fillet of grass-fed beef, pomme anna and mushroom purée. Gueller uses classic flavours to stunning effect, and has commanded the kitchens of three separate Michelin starred restaurants including The Box Tree in West Yorkshire, United Kingdom.
Interestingly, The Box Tree From began as a modest tearoom and recently celebrated its 50th year in business. We talk you through how to pair tea with beef using on of Gueller's French inspired recipes.
The tea to drink with beef

Tea pairing challenge: fillet of grass-fed beef, pomme anna and mushroom purée
Tea pairing follows many of the principles you would be familiar with when matching a wine to a meal. So right away for a beef dish, we need a black tea. Occasionally a highly roasted oolong tea will stand up to a red meat dish, but in this instance given the mushroom component something with a bolder earthiness will produce the best results.
Chinese black teas are consistently excellent when paired with beef. There is often a bold smoky element that really helps the tea stand out against the meat. This dish is heavily savoury and the beef and potato are the two heroes. Potato also pairs very well with earthy teas that have a strong mouth counting feel.
Our selection is Master Wu's Jin Jun Mei black tea from China. This contemporary tea has fantastic depth of flavour. The aroma and top notes perfectly match – right down to the tea tasting notes which identify sweet potato and a starchy structure. This means the tea pairing will work well by helping to accentuate the flavours already present in the meal rather than contrasting them. When the flavours meet on the tongue, they effectively 'recognise' each other and achieve real harmony of taste.
Try your hand at Simon Gueller's grass-feed beef recipe.
What is the tea paring challenge?
Tea and food pairing is just like match-making. It's about creating amazing relationships between flavour, texture, aroma and intensity. In the same way that wine can make or break a meal, tea can really add a new dimension to gastronomy.
Tea Master, Alison Dillon collaborates with restaurateurs, chefs and sommeliers with a passion for provenance to introduce tea experiences and approaches that have the same exacting standard and rigour associated with fine wine programs.
Sometimes opposites attract and bring out the very best in each other by counteracting and creating balance. Other times it's the more harmonious elements that come together, like attracts like. Of course, there are also combinations that were just never meant to be and should be avoided at all costs – it will only end in heartbreak.
To inspire you to fine your own perfect matches we share some of our favourite combinations and recommendations. Don't forget to let us know about your favourite pairings, we would love to hear about them.
Leave a comment
We would love to hear what you think. Leave us your thoughts on this article.