Cooking with tea – Teriyaki Popcorn Tea Chicken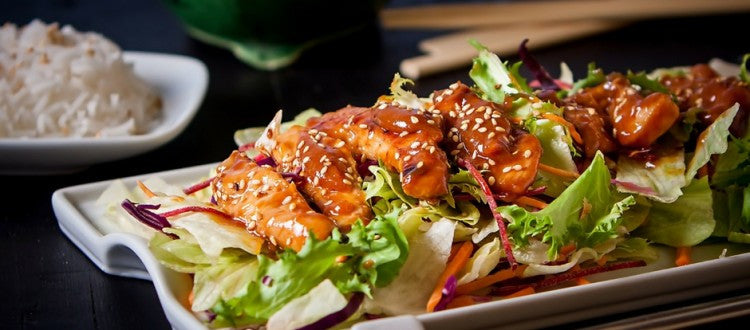 This recipe combines two Japanese staples – teriyaki and tea – into one delicious dish. Food historians believe teriyaki was first made by the Japanese in the seventeenth century. Teriyaki dishes became popular in the West from the 1960s. There are hundreds of different variations of the traditional teriyaki sauce. We have added Genmaicha green tea which gives the sauce a delicious savoury flavour.
Genmaicha is a popular Japanese green tea, often called Popcorn Tea, and is a blend of Japanese green tea and roasted brown rice. While it's not pure tea (because of the blended roasted rice), the Japanese, and indeed the wider tea community, consider it a staple green tea deserving of its place alongside the famous senchas, gyokuros, houjichas and matchas of this incredible tea growing country.
Genmaicha was originally considered the 'tea of the people' and was invented hundreds of years ago when tea was gaining popularity in Japan. At that time, tea was very expensive - an unaffordable luxury for many. To help make the expensive leaves last longer an inventive farmer added some toasted rice. This meant less tea leaves were needed for each pot and the tea supply was stretched out. Pleasingly, the flavour was pleasant and it quickly caught on and remained popular as tea prices settled. 
Tea recipe – Teriyaki Popcorn Tea Chicken


What you'll need
1 x tablespoon peanut oil
2 x cloves garlic (crushed)
2 x teaspoons fresh ginger (minced or finely grated)
3 x tablespoons of soy sauce
1 x teaspoon sugar
1 x tablespoon honey
3 x tablespoons of Cup Above Tea Genmaicha Japanese green tea
1 x tablespoon cornflour
300g sliced chicken breast
1 x carrot (julienned)
1 x cup thinly sliced red cabbage
½ cup of snow pea sprouts
1 x cup lettuce
Sprinkle of sesame seeds (for garnish)
Method
Add garlic, ginger, soy, honey and sugar in small glass bowl and combine well.
Infuse the genmaicha with ½ cup of hot water (around 80 degrees is ideal). Leave to steep for 5 minutes before straining and adding to the garlic, ginger, soy and honey mix.
Add the cornflower and whisk until well combined.
Heat the peanut oil in a pan on low to medium heat. Add the tea mix and heat gently, stirring until the sauce thickens (3 – 4 minutes).
Add the sliced chicken to the pan and cook, spooning marinade over the top frequently, until cooked through.
Prepare the salad using remaining ingredients (reserve the sesame seeds until later), and top with the teriyaki chicken slices. Drizzle any left over marinade on top of the chicken. Garnish with sesame seeds and serve with an optional side of rice and pot of freshly brewed genmaicha green tea.

Cooking with tea. More recipes
Leave a comment
We would love to hear what you think. Leave us your thoughts on this article.