Cooking with tea - Spiced Tea Loaf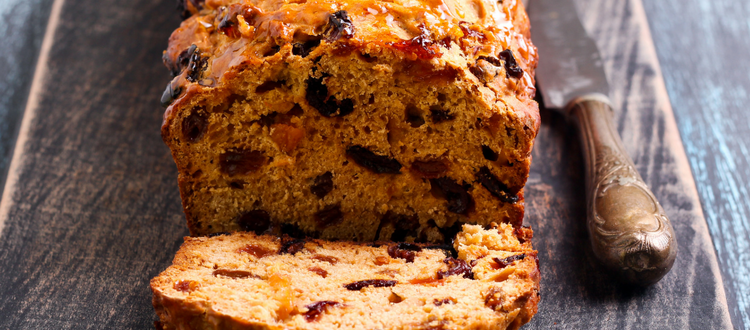 The tea loaf or the tea cake means different things in different parts of the world. In England a tea cake is generally a light bun style treat, more savoury than a cake. They are fruited and lightly spiced and usually contain some form of yeast. They are designed to be split in half through the middle and toasted under a grill, then spread with a good lashing of butter.
In the USA tea cakes are more like cookies or small cakes and the specifics vary depending on which part of the country you find yourself in. Culinary historians think the American tea cake may have its roots in African American slavery, adapted in the South by plantation workers from the English tea cake for their white owners. The plantation cooks would then take a few of the treats or make their own batch with whatever ingredients were available, hiding them in their apron pockets to give to whoever needed the cookie the most when working on the farms got hardest. The tea cakes soon became a much desired comfort food or special treat.
In Russia, tea cakes are melt-in-your-mouth buttery biscuits that contain finely chopped nuts and are coated in a dusting of white powdered sugar.
In India a teacake is more like a sponge cake, while in Australia a tea cake can be anything from a sweet cake to a baked sweet or savoury bread-style loaf.
Taking inspiration from all the different versions around the world, this recipe is simply a deliciously cakey, loaf shaped accompaniment to your cup of tea – whatever the time of day.
Cooking with tea - Spiced Tea Loaf Recipe
What you'll need
350 g of mixed dried fruit of your choice
50 g of Demerara sugar (note: this is different to brown sugar but widely available on supermarket shelves. Demerara has a natural caramel-like flavor; this lends warm, caramel notes)
50 g of brown sugar (lightly packed)
3 heaped tablespoons of Cup Above Tea Himalayan Black Summer tea leaves
200 ml of hot water
225 g self raising flour
1 teaspoon of cinnamon
1 teaspoon of nutmeg
1 teaspoon of vanilla bean paste
½ cup of crushed hazelnuts (or nuts of your choice)
1 large egg
How to make it
Infuse the tea leaves in the hot water, leaving to steep for 6 minutes
While the tea is steeping, add the fruit and both sugars in a mixing bowl
Once the tea has infused, add the tea liquid to the fruit and sugars mixing well to combine. Cover the bowl and leave for a few hours to soak in a cool, dark place. This will help ensure the flavour of the tea comes through. 
Preheat the oven to 200 degrees Celsius (180 for fan forced) and lightly grease or line a loaf tin with baking paper
Whisk the egg and add it to the tea and fruit mixture, followed by the spices, vanilla, nuts and flour. Mix together well and pour into the loaf tin.
Bake for 40 minutes, or until an inserted skewer comes out clean, then leaf to cool on a wire rack
Serve with a dollop of butter, or lightly heated, with a cup of piping hot tea of course…
Interested in cooking with tea?
Here are a few more tea recipes you might like to try:
Leave a comment
We would love to hear what you think. Leave us your thoughts on this article.