Cooking with tea – Slow Cooked Houjicha Tea Pulled Pork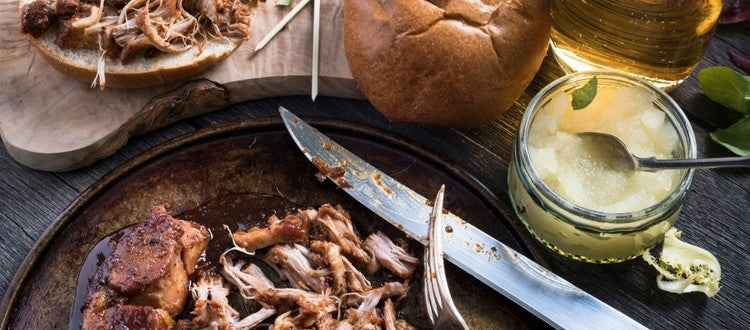 Pulled Pork is very much the 'it meat' around the world right now. We've added a tea-lovers twist to create a versatile dish that's tender, juicy and seriously rewarding. You'll need to put it in the slow cooker in the morning and by the time dinner rolls around eight hours later, you'll have delicious fall-apart meat with an incredible tea-infused flavour.
Tea recipe – Slow Cooked Houjicha Tea Pulled Pork
Preparation – 15 minutes
Cooking – 8 hours
What you'll need
2 kg pork shoulder
2 cloves garlic (crushed)
1 tsp onion flakes
1 tsp fennel seeds
1 tsp ground cumin
1 tsp ground cinnamon
1 tsp thyme
1 tsp paprika
5 tbsp high quality houjicha tea
Salt and pepper to season
BBQ or apple sauce to serve
Method
Take the onion flakes, fennel seeds, cumin, cinnamon, thyme, crushed garlic and paprika and mix together in a small bowl.
Make a series of small slits in the pork shoulder and add some of the spice mix. Use the remaining spice mix to generously rub all over the outside of the meat. Season the meet to your taste.
Pop the meeting in a pan over medium heat. Sear all sides of the pork for a few minutes until just nicely browned.
Take a large bowl and add your houjicha tea. Top the tea with five cups of boiling water. Leave the tea to steep for five minutes than strain (to remove the tealeaves) into a slow cooker.
Turn your slow cooker to high heat and carefully add the pork shoulder.
Cook, covered, on low for 8 hours or until pork meat falls off the bone.
Once cooked, carefully remove the pork and place on a clean board. Remove the skin and as much fat as you like. The meat will come away easily as you shred with 2 forks.
If would want some extra moistness and flavour, add a few tables spoons of the tea cooking liquid.
There are lots of ways to serve your tea pulled pork. Try with a side of vegetables or cabbage slaw, as a slider or burger, or use in burritos or tacos. BBQ or apple sauce is the perfect condiment.
Leave a comment
We would love to hear what you think. Leave us your thoughts on this article.