Cooking with tea – Green tea, prawn and mushroom ramen recipe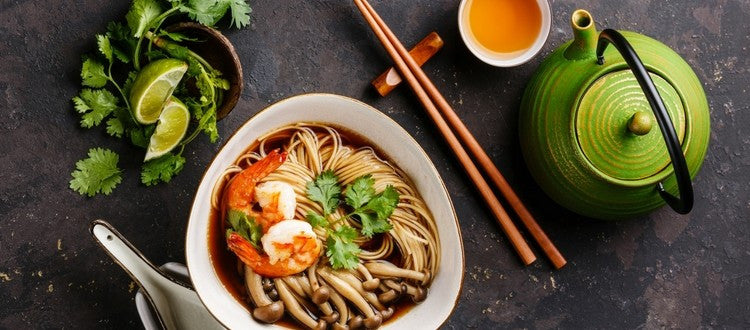 Tea and noodles. The Japanese are exceptional at making both. This dish combines the two into a big bowl of tasty deliciousness. If you haven't already, it's time to join the ramen craze (and remember, slurping is encouraged)!
Tea recipe – Green tea, prawn and mushroom ramen

Preparation – 5 minutes
Cooking – 15 hours
What you'll need
1 litre water
4 tablespoons of high quality Houjicha loose leaf tea
1 tablespoon minced garlic
1 teaspoon grated ginger
1 tablespoon rice wine vinegar
1 tablespoon soy sauce
½ cup thinly sliced shiitake mushrooms
½ cup enoki mushrooms
6 fresh peeled prawns (tail intact)
1 tbsp sesame oil
150 grams ramen noodles
½ cup chopped spring onions
¼  cup fresh coriander
Lime wedge
Optional: freshly chopped chilli
Method
Place the Houjicha green tea leaves in a large bowl. Boil the water in your kettle then open the lid and leave to sit for a few minutes to cool slightly (if you have a temperature controlled kettle, you should set it for about 80 degrees Celsius).   
Pour the water over the tea leaves and leave for 5 minutes to infuse.
In a small pan heat the sesame oil and add the mushrooms. Sauté until lightly browned. Remove from the heat and set aside.
Take your tea and strain it into a saucepan to remove the tea leaves. Set the saucepan over medium heat and add the ginger, soy sauce and vinegar. Bring to the boil. Add the onions, your previously sautéed mushrooms and the prawns.
Add the noodles and bring the water back to the boil stirring for 2 minutes. Reduce to a simmer and cook, stirring occasionally, for around 5 minutes or until noodles and prawns are cooked through.
Taste the tea broth and add salt, pepper and soy to taste. You can also add a teaspoon of sugar if you like a touch of sweetness.  
Transfer to bowl and serve with coriander, and a good squeeze of fresh lime juice. Add fresh chopped chilli for an added kick of flavour.
Serve with a pot of Cup Above Tea Houjicha.
Cooking with tea
More recipes you might like to try:
Leave a comment
We would love to hear what you think. Leave us your thoughts on this article.