Cooking with tea – citrus, white chocolate and tea macarons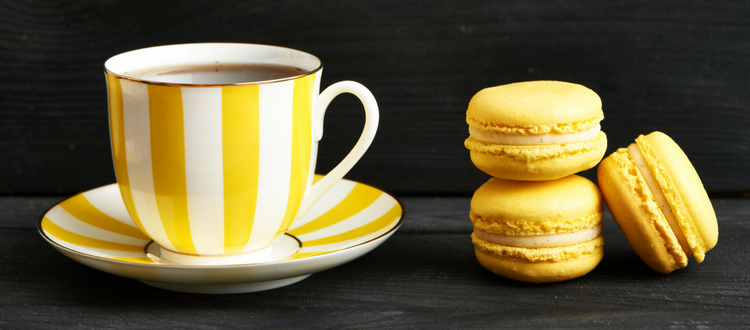 Perfecting a home-made macaron takes some patience but the practice is worth persevering through when you take a bite into the light but crunchy exterior of these delicate cookies.
French macrons come in a rainbow of colours and have a nougat-like, chewy texture. They are filled with anything from frostings and caramels to curds and ganaches. Our macarons are filled with tea deliciousness.
What you'll need
120g Icing Sugar
100g Almond Meal
40g Caster Sugar
2 Egg Whites
3 drops Yellow food colouring – gel colouring works best
Citrus White Chocolate Ganache filling (the inside)
150ml Double Cream
175g White Chocolate
1 tbsp Himalayan Black Summer Tea
Zest of 1 Lemon
What you need to do
Sift the almond meal and icing sugar together into a bowl.
Whisk your egg whites until just frothy using a free standing mixer or electric hand whisk. Add your caster sugar and keep up the whisking. Just as you see the stiff glossy peaks form add your yellow colouring.
Transfer the egg white mixture to the almond and icing sugar bowl, folding gently. Don't overwork the mixture but fold until you achieve a soft consistency. You want something that will drop off the end of the spatula or spoon and sink seamlessly back into the batter. If it doesn't disappear back in, give it a few more folds with the spatula.
Next, scoop the mixture into a piping bag with a round nozzle. On a lined baking tray pipe out even circles. The circle will spread outward as you pipe. When it's your desired size release the pressure on the piping bag and lift the tip away to the side, leaving as small a "peak" as possible.
Set the macrons aside and leave them to 'dry' for about half an hour.
While they dry, preheat your oven to 150 degrees Celsius. Once dry, back the discs for 15 then let them cool on a wire rack. This will help the discs peel away easily.
As your discs cool, you can start on the filling. Take your dry tea leaves and process until very fine using a food processor or mortal and pestle.
Next, add the cream, lemon zest and ground tea to a saucepan and heat on low heat until the cream comes to a light simmer. Add the white chocolate in a separate bowl, then pour the warm cream mixture over the top. Stir together using a metal spoon until chocolate melts and mixture is smooth, then leave to cool for 30 minutes.
Once cool, stir the mixture vigorously to thicken it up then spoon or pipe the tea filling onto half of the macaron discs and sandwich with the others. Keep your macarons in an air tight container – once filled they taste better after at least 24 hours of resting, and some refrigeration – it results in a beautifully chewy centre.
Serve with a piping hot cup of black tea. The citrus, tea and creaminess of the white chocolate are the perfect flavour combination.
Interested in cooking with tea?
Here are a few more tea recipes you might like to try:
Leave a comment
We would love to hear what you think. Leave us your thoughts on this article.