An illustration is a story captured forever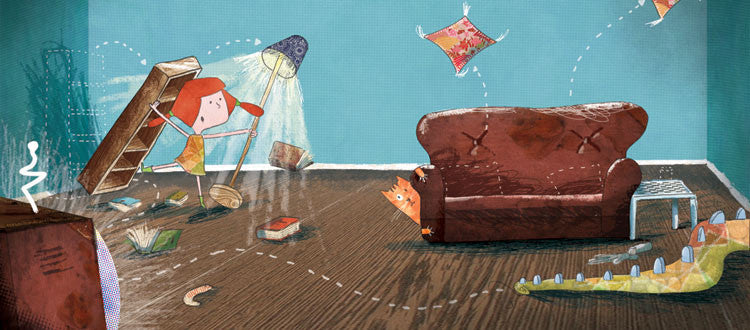 A picture paints a thousand words. Sure, it's a cliché, but it's a good one. Exceptional illustration can bring a story to life and nowhere is this more obvious than in children's storybooks.
So often we see information digitally, our senses are assaulted by animation, we're bombarded by computer generated design and studio-perfect photographs flash at us from all angles. Creatives are experts at communicating messages to us quickly, simply and with no room for confusion. After all, there is so much competing for our attention.
Exploring Richard Corrigan's designs, makes you stop and reflect on the power of a beautiful hand-drawn illustration and the sense of wonderment and discovery it evokes. Richard's illustrations take you on a journey, prompting you to exercise the imagination muscles. Richard is based in York in the United Kingdom and is an award-winning young illustrator preserving 'hand-drawn' illustration in the creative world of graphic design.
Tell us a little more about you
I work in all areas of design and illustration for clients all over the world. It can be anything from editorial illustrations, to brand and packaging, to children's books. I recently established Dog Eat Cog, a design and illustration collective bringing incredibly talented designers together in the one space, I'm helping students and young creatives get access to major client briefs, earn a bit of money and develop their portfolios. I have about five unfinished children's books I'm illustrating, and I've recently been commissioned by to produce a kids book for the Science Museum in London which is a really exciting project.
What is it about illustration for you?
I think creativity in general is hugely important for a healthy society. It drives imagination which, in turn, drives invention. Most of the things we see and use on a daily basis have, at some point, been inspired, dreamt up, imagined and invented.
Provenance matters. What's yours and how does it relate to your work?
I grew up in Durham, a small place near Newcastle in the North of England – traditionally a mining area. There's an eclectic mix of people there. With the closing of the mines there is a lot of deprivation, which is in stark contrast to the students that go to the University there.
I think in any place where there is an underlying tension, there is a fantastic undercurrent of creativity. That applies to the whole of the North of England really. It rains a lot, it's cold and sometimes it's really grim, so people stay in and drink, talk, write songs, paint pictures and draw. It fosters and encourages creativity, If it's nice all the time, people don't have that urge to make something better.
I drew and painted from a young age, but never with any real purpose. After dropping out of University I was a tad lost, but I rediscovered my love of drawing when I moved to York and started working at a stamp makers. I used to draw and put together the stamps on the computer, which was similar to graphic design and illustration really.
What makes for a good children's book illustrator?
Good wit and the ability to tell a story in a simple way. There are many who do this superbly. Quentin Blake, Dr Seuss, Jon Klassen and Oliver Jeffers are a few of my favourites.
How do you get started on illustrating something?
Generally I start with sketching the concept and composition and then I move on to inking, vectors and textures, whatever the particular style requires really. I'm something of an oddity in the sense that I work in a number of styles, and they all have a slightly different process!
Why is excellence in craftsmanship so important?
Quality craftsmanship is important in creating a sense of pride in what you do, which I think is very healthy. I've churned things out in in the past to very tight timeframes, which makes for bland, boring work with weak concepts. Now I always allow a decent amount of time for research, development and design and artwork time so that each piece of work is awesome. To me, excellence is something that is imperfect, but still wonderful, something that is made better by the little mistakes. You see it in music and illustration all the time.
What are your thoughts on the adult colouring in books taking the world by storm?
Apparently they're a good way of relieving stress, so I'm all for them. Actually, Dog Eat Cog and United by Design are planning to do huge mural illustrations in York, UK, and let everyone colour them in!
Can people 'learn' to draw – do you either have the drawing gene or not?
Yes I think anyone can draw, but I think a lot of people lack confidence, so they think they can't. The best thing about drawing, for me, is the thoughts and ideas they represent, not the technical ability (that's the bit that can be taught).
What are your top tips for people looking to get in touch with their creativity and imagination?
Read a lot, and go outside.
What piece of life advice do you live by?
Don't be too precious… some people will like what you do, some people won't. I don't think it really matters as long as you're happy!
What are you curious about at the moment?
Music. I play in a band called Here Be Thieves. I just got a Vox ac30 amp and I'm very curious about how it's going to sound! Also, I'm curious about the environment, I just watched Cowspiracy and it changed my viewpoint on food - I have stopped eating meat.
How do you create moments of luxury for yourself?
Beer… and tea! But not at the same time!
What takes your fancy in the Cup Above Tea library?
Mmmm, with coffee and caramel notes it has to be the Dark Roast Sumatra
How much tea do you drink?
I'm English, I drink tea every day - at least five cups! My favourite is Earl Grey. I drink it all day every day at work, except first thing when I have a coffee. I like making chocolate biscuit straws - bite both ends off any chocolate biscuit and suck the tea through it, then eat it…. quickly!
Any tea pet hates?
Weak tea!
[gdlr_divider type="solid" size="50%" ]
Plastic Fortune's 'People of York' series caught up with Richard recently. You can see more of his beautiful illustrations in this short video or at www.dogeat.cog.co.uk
[gdlr_divider type="solid" size="50%" ]
Leave a comment
We would love to hear what you think. Leave us your thoughts on this article.