A bicycle, a bomb and a great grandfather...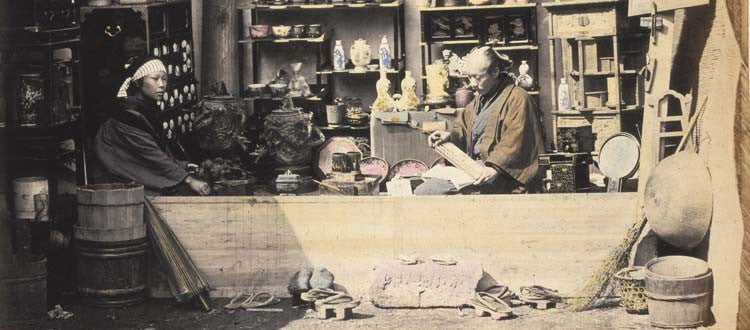 It's the early 1920s in Fukuoka, Japan. A young man, with aspirations of becoming a renowned tea merchant is carefully packing tea into the basket of his bicycle. All day, every day, he cycles through the streets delivering tea he bought from various gardens to his loyal and ever-expanding group of customers.
The business is a success, the bicycle morphs into a small shop in town and all is going well – until war and unrest breaks out in Japan.
The once beautiful tea shop is destroyed by a bomb. But the bicycle man's spirit was not.
Instead of rebuilding the tea shop, the bicycle man purchased some farm land in Yame District. On a small but well positioned plot in the tiny village of Yabe, the bicycle man began growing his own tea. From now on, he would sell his tea, not the tea of others.
That bicycle man was Great Grandfather Kurihara. Today, Kurihara's great grandsons manage the tea garden. After four generations much has changed at the garden, but much has remained the same.
Four generations on…
Over the years, the Kurihara family has developed their processing equipment and gained a reputation locally, nationally and internationally as exceptional artesan tea producers, famous in particular for the craftsmanship of their premium gyokuro tea.
Yabe Village is a very small, tight knit community with many tea farms. While there is a lot of tea grown in the village, not all tea farmers are skilled master craftsmen. Instead, they look to the Kurihara's to process and look after the tea leaves once they are harvested. Often, leaves from the various village gardens are blended together to achieve consistent flavour from year to year, though the Kurihara's always keep their own small batch premium leaf lots separate and unblended to produce their signature and award-wining gyokuro tea.
Gyokuro
Gyokuro is a fragrant, delicate green tea treasured by the Japanese and tea connoisseurs the world over. It is characterised by small leaves that are needle-like in shape and a rich emerald in colour. It's harvested from early spring buds which are carefully grown under shade for around 20 days immediately prior to picking. Production is very limited so there's not much to go around. It is traditionally enjoyed on special occasions thanks to its exclusivity.
The skill of the tea master is on display with authentic, high quality gyokuro. The craftsmanship needs to be meticulous to bring out the right flavours and the processing is complex. That's why it's one of the most expensive Japanese teas. There is plenty of poor quality, inexpensive gyokuro on the market. It is often imitated, especially in China and you can pay too much for inferior tea marketed to unsuspecting consumers as something it simply is not.
Provenance
The Yame region (where the Kurihara's gyokuro is grown) enjoys exceptional terroir and is a renowned gyokuro producing region. Along with Uji, this area has a reputation for producing some of Japan's finest teas.
The Kurihara's gyokuro garden is 680 metres above sea level. This elevation contributes to a stronger flavour gyokuru than that grown further down the mountain. Tea bushes grow more slowly at higher elevations and the Kurihara's garden experiences significant temperature differences from day to night. Both these factors cause the plants to release stronger flavour compounds, helping them respond to and survive the climate variations.
The Kurihara's produce our gyokuro from a small parcel of very select plants. This section of the garden is cultivated differently from all the others.
Excellence in craftsmanship – making gyokuro
About three weeks before harvest time, the Kurihara's shade the most superior plants in the garden with a double or triple layer of thin tarpaulin cloths.
This shading is what makes a gyokuro a gyokuro and not another variety of Japanese green tea such as a sencha for example. Multiple thin layers of cloth are used instead of just one thick layer, as the plants still need some sunshine, airflow, and rain and to develop.
Shading eliminates about 85% of all light and forces the plant to draw more nutrients from the soil because the usual photosynthesis process is greatly reduced. This triggers intense chemical changes in the leaf and results in higher concentrations of amino acids and theanine, which contribute to the distinct rich umami taste that is characteristic of gyokuro.
The high amino acid levels force the plant to manufacture higher-than-usual levels of chlorophyll. Chlorophyll would normally help the leaf grow in regular sun-lit conditions, but because of the reduced light from the shading, the plant doesn't grow at the same rate and this excess chlorophyll is retained within the leaf accounting for the unmistakable bright, emerald green colour of the tea.
After 21 days, these shaded leaves are harvested and processed. The raw tea leaves are withered on the ground for a few hours to remove moisture before being quickly steamed on a small conveyor belt to prevent oxidation and keep the leaf green. The leaves are then rolled and shaped into little thin needles.
Throughout this process Tea Master Akiko works his magic. It's not uncommon for a tea master to be awake and for several days straight to ensure the perfect harvest window and exact timeframe for each step of the production process.
While we aren't able to deliver it to you by bicycle like Great Grandfather Kurihara in days gone by, a limited amount of the Kurihara's finest gyokuro is available to secure from the tea library.
Leave a comment
We would love to hear what you think. Leave us your thoughts on this article.